RajMahal The Palace
Orchha
Let the echoes of history and the beauty of nature enchant your senses, as you discover the true essence of luxury and tranquility at Rajmahal The Palace Orchha
Contact Us:+91-7747065402, +91-7905182040 Email: rajmahalreservation@gmail.com,     rajmahalorchha@gmail.com
"Discover a heaven of authentic charm and sophistication, where the grandeur of the past is preserved in every detail, at our heritage resort."
Hotel Raj Mahal The Palace in Orchha is a perfect example of luxury and elegance with all modern facilities and yet maintains the royal opulence. Overlooking the Betwa River, it is the ideal place to enjoy the very heart of India. With it's skilled and experienced staff, personalized service and luxury accommodation in a tranquil environment, it is a natural choice for leisure and business guests alike.
Hotel Rajmahal is located at peaceful location in Orchha, so you can enjoy your quality time with your family or friends in our heritage resorts, Our hardworking and professional staff is always there to serve you in case you need anything, You will have a luxury plus historic experience in our resort, If you are visiting orchha then Rajmahal can be the best choice for you.
Wedding Experience in RajMahal
Beautiful and exotic dining experience amidst lush greenery and heritage architecture at our resort's picturesque lawn.
Surrounded by the tranquility of nature and the charm of traditional architecture, this beautiful lawn provides the perfect sitting for a romantic dinner, family gathering, or special event. Imagine savoring exquisite cuisine while basking in the warm glow of sunset, listening to the soft rustle of leaves and birdsong in the background. Whether for an intimate meal or a grand celebration, our RajMahal's lawn with dining is sure to leave a lasting impression on all your visit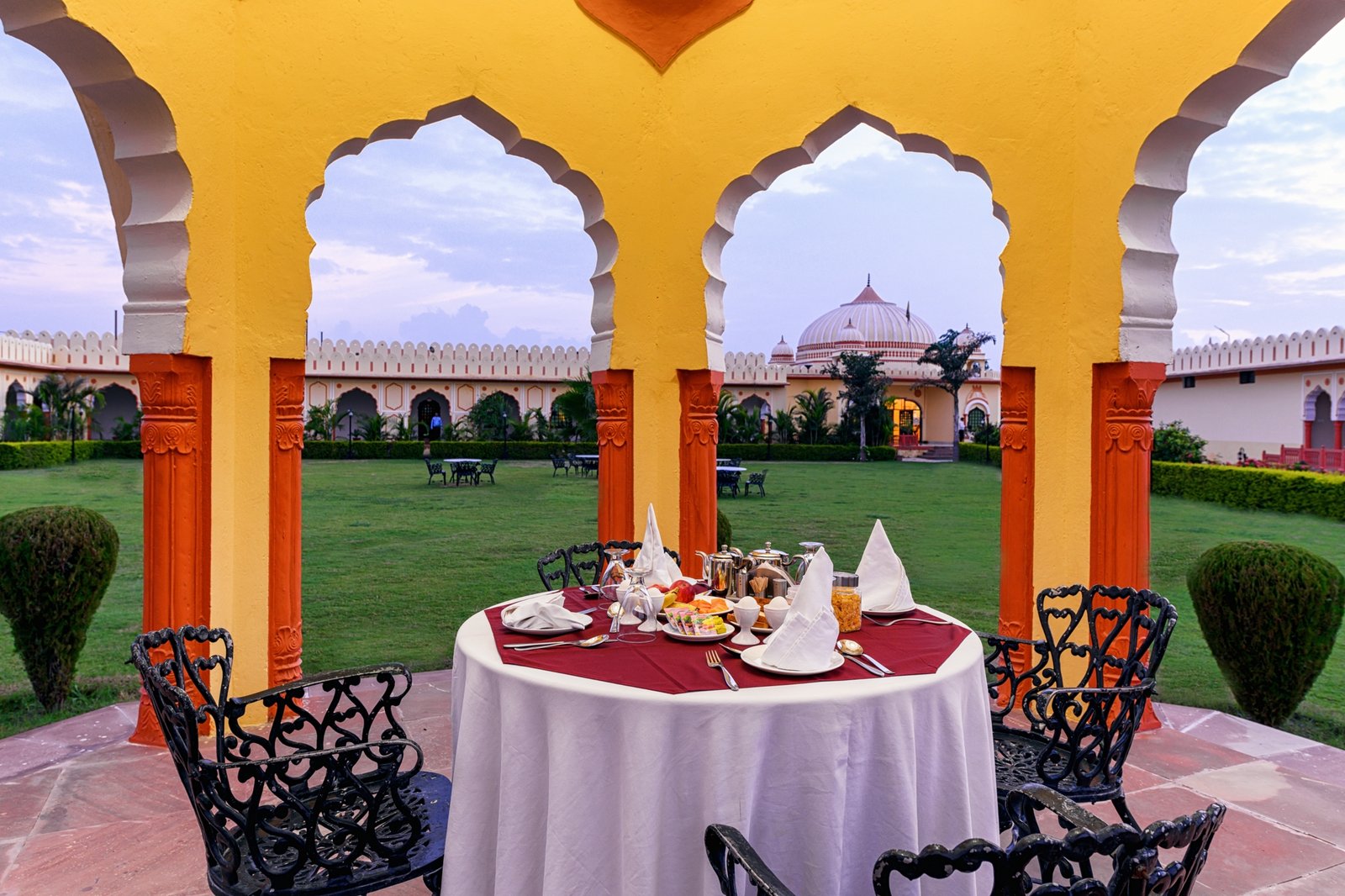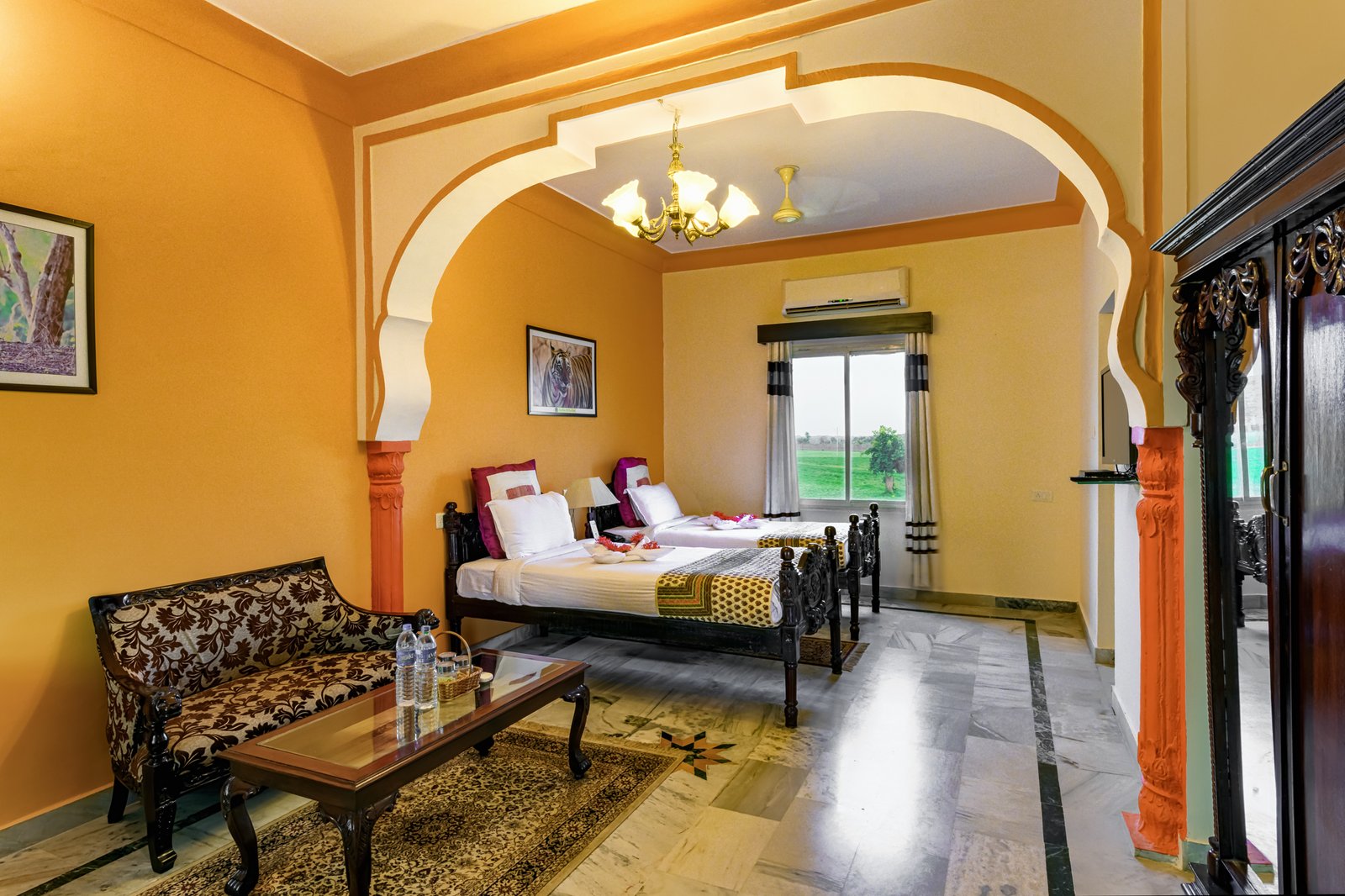 Stepback in a time with Luxury while you stay at Rajmahal
Our stunning rooms are thoughtfully designed to reflect the charm and character of traditional architecture, while providing modern amenities and comforts. With plush bedding, exquisite furnishings, and breathtaking views of the surrounding natural beauty, your stay at our RajMahal Palace in Orchha will be nothing short of unforgettable.
Perfect for Destination Weddings, Events and Conferences
If you have a dream for Destination Wedding with Traditional and luxury charm then Rajmahal will be the best choice for you
Authentic Traditional flavour with Traditional ambience
If you are travelling to Orchha then you can enjoy authentic flavors of our region at our traditional restaurant dining. Our talented chefs draw inspiration from the rich culinary heritage of the area to create a menu of delicious, time-honored dishes that are sure to delight. 

Providing Hospitality the Correct Way
Round The Clock Housekeeping
Book your Stay, Weddings, Events & Conferences with us!
Raj Mahal The Palace (Orchha) is with the Traditional Rich Architecture & culturally infused Royal charm. We offer luxury & elegantly furnished Suites & Rooms with on site fine dining, Warm hospitality and admist pure nature
Orchha is a town nearby Niwari district of Madhya Pradesh state, India. Rajput ruler Rudra Pratap Singh established the town orchha and founded in 1531. Orchha lies on the Betwa River, 80 km from Tikamgarh and 15 km from Jhansi in Uttar Pradesh. Mainly the town is famous for Ram Raja Temple.
Contact Us: +91-7747065402, +91-7905182040
Email: rajmahalreservation@gmail.com, rajmahalorchha@gmail.com
Discover what our delighted guests have to say about their experience at Rajmahal the Palace in Orchha, Madhya Pradesh, India.
Great place. Really loved everything about the hotel right from the ambience to amenities. The food was also decent but a little heavy on spices. Overall a great experience.
Great 4-star hotel with spacious rooms, free Wi-Fi, and top-notch amenities like an outdoor pool, spa, and restaurant. The staff were friendly and attentive, and the free breakfast was a nice touch. Highly recommend
One of the best hotel in Orchha, had a wedding their with my Production team,had a wonderful time there at rajmahal palace.Highly recommendded for destination wedding at rajmahal palace. Love New Kuljeet Sound ❤️
The best hotel I have ever saw. It's full of luxurious style and facilities. Services are also good. Food is also very tasty and hygienic. You must visit once.